Eeeee the patio is finally complete! It only took the whole summer bahahaha. What we thought would be a simple "get furniture, bring it outside, voila!" sitch turned into a big outdoor project that involved a lot more work than previously anticipated. We're just so happy with the finished space though, and I'm excited to share it with you!
When we first moved into our casa about a year and a half ago, I was SO happy about the lil backyard and patio. Coming from a small one bedroom apartment with a tiny balcony, this patio felt like winning the lottery! However, I wanted to focus on the rooms inside the house before buying a bunch of new furniture for outside. Decorating the inside took a long time - I only just finished up the office/guest bedroom a couple months ago, and I still have plans for our bedroom! I took it slow so that I could be really deliberate and intentional with my purchases. Only bringing things in that sparked joy and truly worked in the space, rather than scrambling just to fill each room with pieces I wasn't crazy about. So the backyard stayed empty as I focused my money and energy on the interior.
The beginning of this summer however, I decided it was time to tackle the patio. Eddie and I went out back to take measurements and assess the space so I could start designing. What we found was a bit startling - with all the rain in LA throughout the winter and spring, a bigggg patch of mold had formed on our patio bricks. Yikes! I knew we had to take care of it before any furniture made its way out here, which meant it was time for some heavy duty cleaning. You can watch our cleaning process HERE! The bricks were just so dirty, it felt like no matter how many times they were washed or scrubbed, there was still more dirt to clean. That combined with a lot of traveling we did throughout May and June meant the process took longer than expected.
I knew I wanted an umbrella out here because the patio gets a LOT of sun throughout the day. When I saw this fringey sitch I fell in love! I spent a little extra on a crank umbrella pole instead of a pin one so that opening and closing would be easy breezy.

A dream of mine was to have a hanging chair out here, and BCP made it happen! They sponsored this fab cotton macrame swing and pole, as well as another patio dream - STRING LIGHTS! Eddie's been listening to me go on and on about how I can't wait till we have our own lil patio with twinkly string lights for 8 years now bahahha. The dream has come true!! Over the moon about it.
When looking for an outdoor rug, I wanted it to still feel like an indoor rug. This Persian style kilim was exactly what I had in mind, and the best part? It's handwoven of yarn made from recycled plastic bottles. Uhhhmazing. It's also easy-to-clean! You just hose it off when it's dirty and let it dry, that's it. I layered it on top of an old jute rug we had in our garage so that it covers up even more of the bricks. Since we're renting our home, we didn't want to invest in new bricks for the patio - so we're working with what we got. You know what I always say - if you can't change it, cover it up!

Once we had our main furniture pieces set up outside, it was time for PLANT PLANNING! Since the patio gets a lot of sun (and also because they're just my faves), Eddie and I agreed cactus and euphorbia would be the best bet. We also added a white birds of paradise for those big fab green leaves. We originally bought a few small bougainvillea for the space as well, but they weren't happy in the day-long direct sun so we moved them elsewhere.
The last major addition to the patio was this stunnnnnning coffee table from Safavieh. I searched so long for the perf table that would go nicely with the already existing furniture. Nothing I looked at seemed to work! The moment I laid eyes on this piece though, I knew it was the one. Many thanks to Safavieh for sponsoring it! The table top is made of concrete and the legs are acacia wood. It matches so beautifully with everything else, and it's the absolute perf size. I'm just obsessed.
No space is complete for me without some candles. This Sagebrush + Fir candle from Paddywax and the Swell candle from P.F. Candle Co. are absolute dreams - strong enough that you can smell them in an outside space, they really set the mood and bring the good vibes.
Isn't this Moroccan silk pillow from Spirited Cloth a stunner? I actually bring it inside when we're not hanging out here because I love it so much! Matches our living room decor nicely too :)
The lanterns were a happy Home Goods find. Love the jute handles! This fuzzy floor pouf actually lives in our living room, I'm still looking for one that will stay out here full time.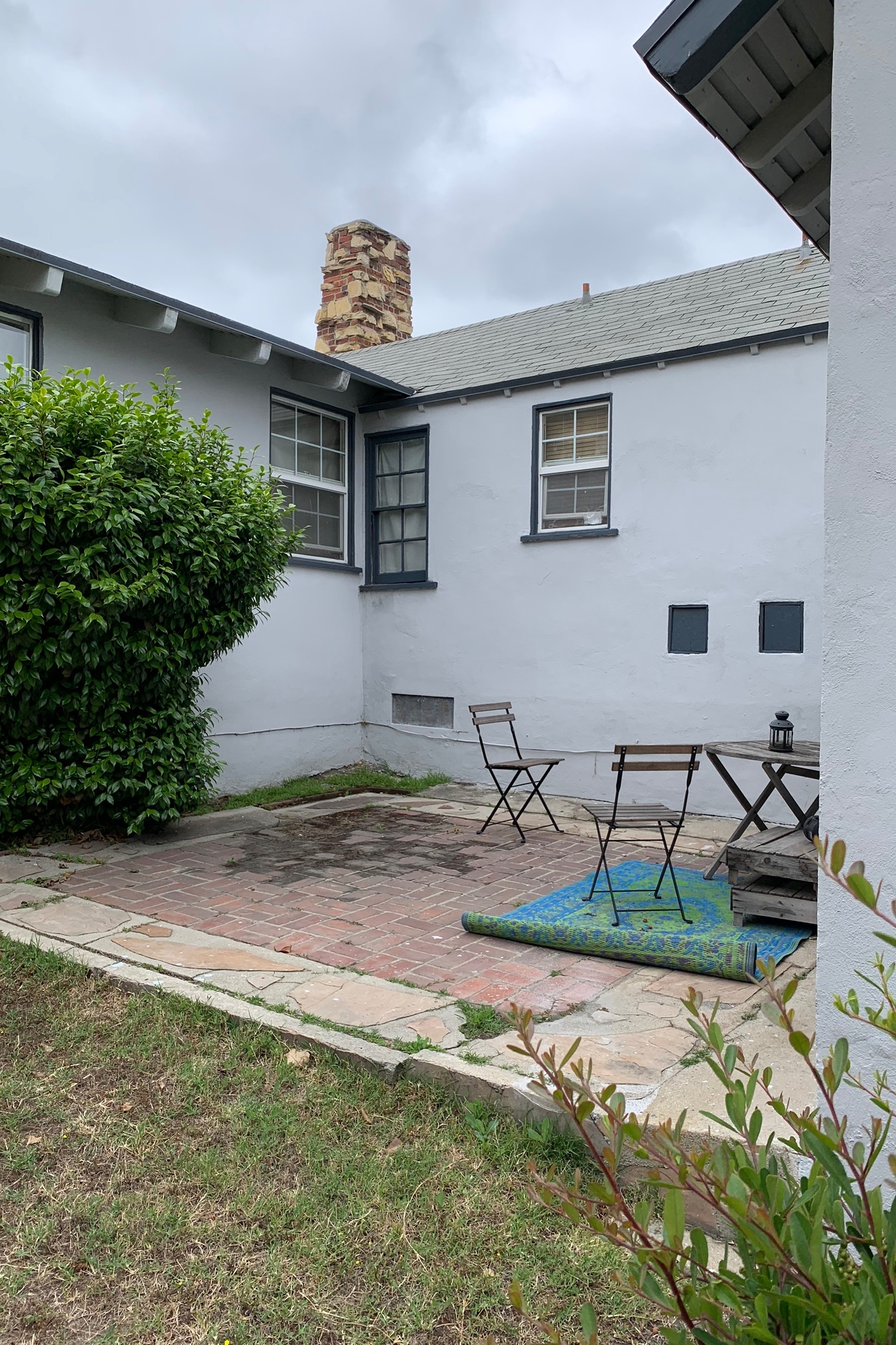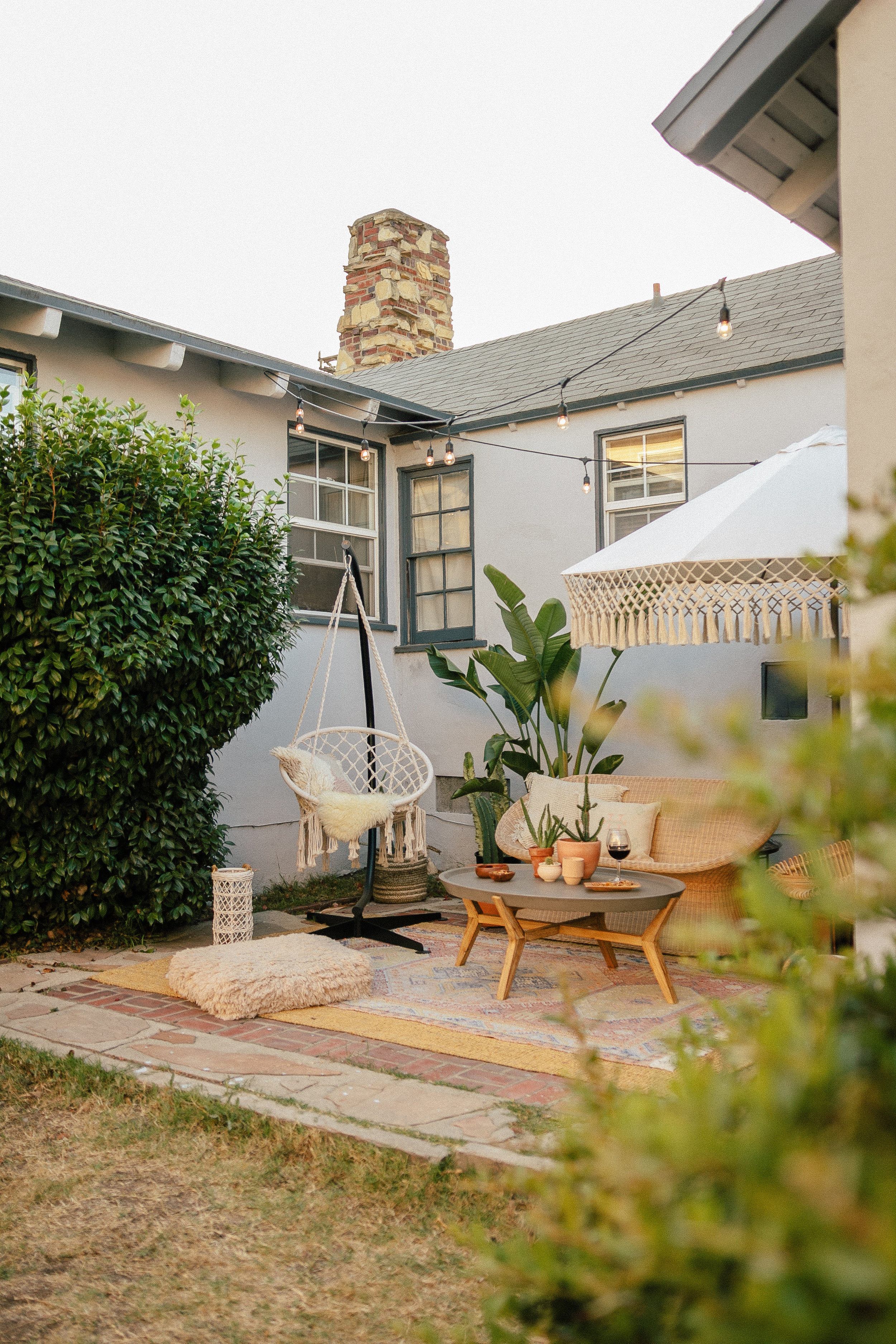 Eddie and I enjoyed our first wine time happy hour out here together and it made me SO happy. I had really missed having a little outdoor space for hang seshes! Looking forward to spending time outside with family and friends for years to come. Cheers!